Invest in the future of care for New York
Changing the way New York cares
ABOUT THE COALITION:
We are the New York Caring Majority, a movement of seniors, people with disabilities, family caregivers, domestic workers, and home care providers from all across the state.
Our Goals
Our goals are:
To make long-term care services and supports affordable and accessible to all New Yorkers who require additional support to live independently; and

To improve the quality of home care jobs and create the caregiving jobs we will need to meet growing demand.
All New Yorkers deserve the care we need to live full and healthy lives. Now is the time to change the way we care.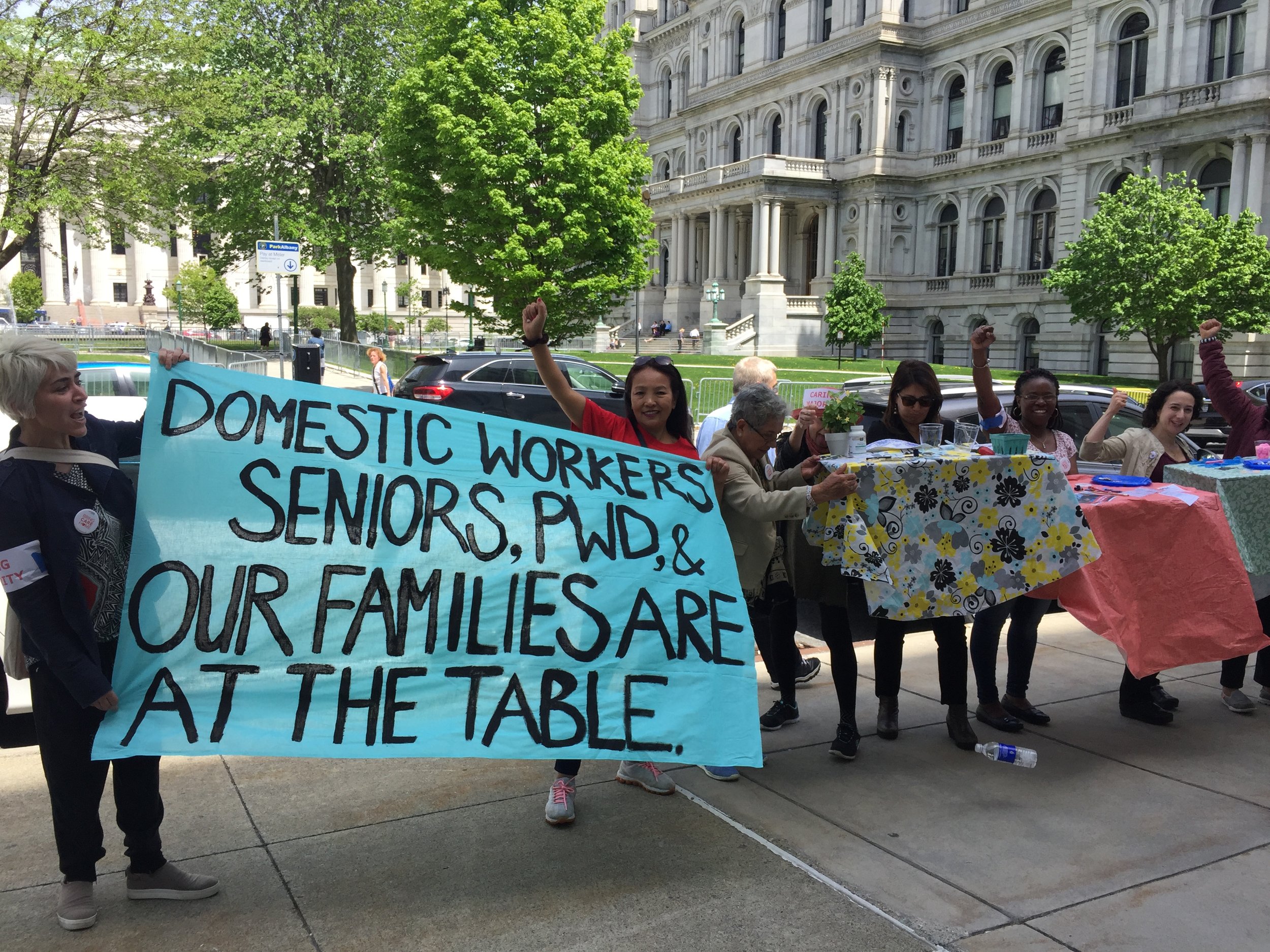 Community based long-term care is the fastest growing sector of health care. However, our society has no plan for how to effectively provide for this increasing demand.
Our city, state, and nation face an unprecedented Elder Boom. Every eight seconds, another baby boomer turns 65. The current population of New Yorkers aged 65 and older is estimated at over 2.9 million and is expected to approach 4.4 million by the year 2040. Together, we are creating even greater demand for caregiving and services like home care that allow older adults and people with disabilities to age and live at home.
Yet our policies and programs have yet to catch up with our state's changing realities, and as a result, our families are struggling.
Those of us who cannot pay out-of-pocket for care are often sent against our will away from our homes and communities to nursing homes; our families are spending down generations of savings to pay for care for our loved ones and grappling with increasing caregiving responsibilities; and the people we often rely on to care and support for our family members struggle to get by on poverty wages.
It's time to build a care infrastructure that supports ALL New Yorkers.
All New Yorkers deserve the care and support we need to live full and healthy lives, and should have the freedom to make the care choices that work best for us and our families.
ADD YOUR NAME TO JOIN THE CARING MAJORITY, and we'll be in touch with concrete actions you can take to create a more caring New York.
It is too hard right now for most of us to make the care choices that work best for us our families. From family members stepping up to care for their loved ones, home care workers struggling to make ends meet, people with disabilities being forced into institutions because they can't afford (or can't find workers to provide) the in-home support they need) and older adults forced into poverty and who want to age at home but can't, too many New Yorkers are struggling.
It doesn't have to be this way — and together, we can call on our state to do more. Together, we can ensure that all of us can get quality, affordable care, when and where we need it.
We can:
Pass the New York Health Act, with a universal long-term care benefit from day one of its enactment

Invest in the 21st century home care workforce we need. We must increase pay and job quality for home care workers. We can start by creating a Home Care Jobs Innovation Fund and funding the Advanced Aide Program
Join us.